SOLE THERAPY. Just 10 minutes from Taren Point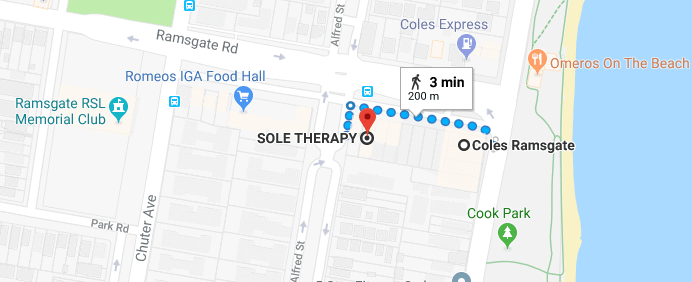 Contact us to start your pain free journey today at
Hip pain is a common complain that can be caused by several problems. When your hip is sore, it is normal to think that the hip itself is the cause but that is not always true. Hip pain can be referred, for example from lower back pain. Do you suffer from hip pain? Taren Point Podiatrists can help you! SOLE THERAPY is located less that 15minutes from Taren Point at 1/209 Ramsgate Road, Ramsgate Beach, NSW.
If your body is holding you back from doing what you love our Taren Point Podiatrists have the skills and knowledge to make you feel better. All our podiatrists are university trained and have the expertise, passion and empathy to help within a range of issues such as:
Heel pain
Ball of foot pain
Lower back pain
Ankle pain
Bunin pain
Achilles problems
Ankle sprains and tendon injuries
Cosmetic podiatry: cleaning up of nails, hard skin, treating warts and fungus.
Foot mobilization therapy beneficial for tight muscles, foot, ankle and knee pain.
Through an extensive testing and a 1-hour thorough biomechanical assessment our Taren Point Podiatrists will be able to determine your diagnoses. Your treatment plan will be created according to your unique needs, so that it works with your lifestyle and activities.
Here at SOLE THERAPY we use innovative technologies, especially when it comes to orthotic therapy. Our customized SOLE THERAPY orthotics reduces stress on your body by bringing the lower back into proper alignment. We customize the orthotics in just 30 minutes as we have our own facilities to do them on the spot for you!
At Taren Point Podiatry we use sterilized instruments and modern equipment. We have experienced shoe advisors that can assist in choosing the right footwear according to your needs. We are an award winning team and a place for all foot related problems.
SOLE THERAPY is located at 1/209 Ramsgate Road, Ramsgate Beach less than 200 metres from Coles and less than 15minutes from Taren Point. Free 2-hour parking is also available if you would like to visit us by car, as well as a bus stop less than 50m from our clinic. A chair lift is also available for patients that have difficulty going up and down the stairs.
To book an appointment with our expert Taren Point podiatrists simply call us on (02) 9583 1138.
Follow us on social media