SOLE THERAPY. Just 15 minutes from Sylvania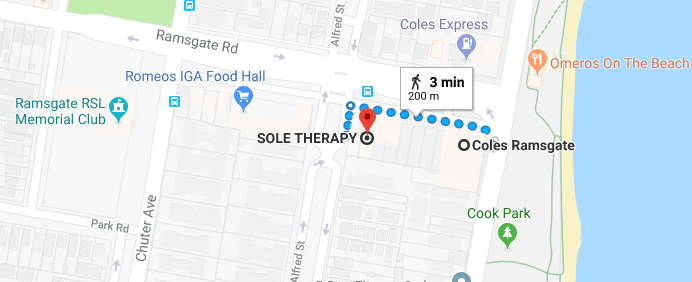 Contact us to start your pain free journey today at
Do you want to know how a hammertoe is treated? Hammertoe is a deformity that causes your toe to bend downward; it can affect any toe but in most cases is treatable. A hammertoe will cause you discomfort or pain when you walk or when you try to stretch or move the effected toe. Here at SOLE THERAPY we can provide you with a variety of solutions depending on your case. Our Sylvania Podiatrists are experts in anything associated with feet, leg and lower back pain.
SOLE THERAPY is the place for all foot related problems. We are conveniently located not far from Sylvania, at 1/209 Ramsgate Road, Ramsgate Beach, NSW. We have a passion for getting people out of pain to live their best lives!
Some of the services our Sylvania Podiatrists can offer you are:
Thorough 1-hour biomechanical assessment and gait analysis from where our podiatrists will be able to determine your diagnosis and create a unique plan according to your own individual needs.

Dry needling and mobilization to help with tight muscles and joint pain.

Treatments related to skin and nails such us corns, calluses, ingrown toenails, warts, fungus etc.

Expert footwear advice and fitting for your foot type.

Customized functional orthotics made in just 30 minutes in our clinic.

Sterilized instruments according to Australian Legislation.

We also offer nail painting and LCN- a CHEMICAL FREE acrylic for damaged or short nails.
If you suffer from any of the following our SOLE THERAPY team can help you:
Arch pain

Ankle pain

Heel pain

Flat feet

Knee pain

Bunions

Arthritis

Lower back pain
Sylvania Podiatry clinic understands how issues at the feet can have a serious impact further up to back, hips and knees. We pride ourselves on a holistic and individualized approach to each patient that visits our clinic. The health of your feet is important to us and we strive to provide our patients with the best foot care available.
Our clinic is conveniently located not far from Sylvania. SOLE THERAPY is easily accessed by bus, bus stop only 50m from our clinic. There is also a FREE 2-hour parking. We have installed a chair lift for our patients that are unable to navigate stairs.
To book an appointment with our clinic simply call at (02) 9583 1138.
Follow us on social media