SOLE THERAPY. Just 5 minutes from Sans Souci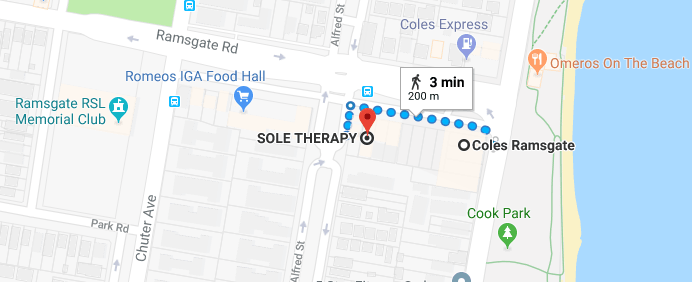 Contact us to start your pain free journey today at
Did you know that over 40% of Australians will suffer from foot pain at some point in their life? If you are one of these people or have concerns of pain development in the future, then come and visit SOLE THERAPY, Sans Souci podiatrists. Our local clinic is located only minutes from Sans Souci on 1/209 Ramsgate Road, Ramsgate Beach, NSW.
Our Sans Souci podiatry clinic has been helping the local community for over 10 years. We are a caring and knowledgeable team with a passion for helping others with a holistic approach. Foot issues can have enormous impacts on mobility, quality of life and overall health. If foot pain is holding you back from living life then we can help you!
Podiatry Sans Souci uses modern video treadmill gait technology to assist in accurately diagnosing gait and postural issues. At Sole Therapy we don't just treat the presenting complaint, we also treat the underlying cause. Our comprehensive biomechanical assessment will allow our podiatry experts to design a customised treatment plan for you.
Our local Sans Souci podiatrists can help you with:
Accurately diagnosing and treating foot pains including but not limited to-

Heel pain

Achilles issues

Ball of foot pain

Bunions

Flat feet

Acute injuries
On the spot customised orthotic therapy- Sans Souci podiatry orthotics are a combination of science and art; providing comfort, stability and shock absorption. Pain-free results can be achieved within 6 weeks.

General foot care- tidying up of nails, callus, corns; also treating ingrown nails, warts and fungus.

Dry needling and acupuncture combinations to help with tight muscles, pain and swelling.

Foot mobilisation therapy that stops pain and preserves foot joint integrity.

Assist in finding correctly fitting shoes for your foot type- with plenty of options to purchase from in clinic: HOKA, FRANKIE 4, HUSHPUPPIES, SLAPPAS, AXIGN, JOYA, ROLLIE.
Sans Souci podiatry clinic SOLE THERAPY is the place for all foot related problems. Our team has a genuine desire to help those in need. We want to keep Sans Souci mobile, pain-free and enjoying life! Take the first step and visit Sole Therapy today. Together we get you on your personal road to recovery.
Sole Therapy is located close to San Souci at 1/209 Ramsgate Road, Ramsgate Beach- just next to Ramsgate Seafood. There is plenty of free parking and the bus stop is less than 50 meters away. We also have a chair lift for patients unable to climb stairs.
Follow us on social media