SOLE THERAPY. Just 5 minutes from Sandringham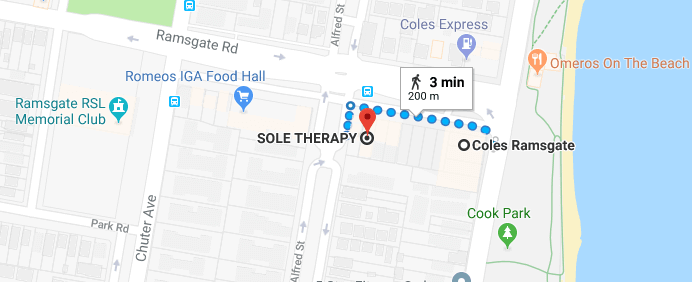 Contact us to start your pain free journey today at
Do you feel like your feet are holding you back? Are you struggling to complete daily activities pain free? Or is a stubborn corn stopping you from wearing your favourite shoes? Sandringham Podiatry practice SOLE THERAPY is here to help! We are an enthusiastic team that are experts in feet, located close to Sandringham at 1/209 Ramsgate Road, Ramsgate Beach.
Sandringham podiatric clinic has been helping the community for over 10 years. We are specialists in the lower limb- that means back, hips, knees and feet! Our team is patient focused and has a passion for getting people out of pain to live their best lives! We see people from all walks of life; our youngest patient is 6 months old and our eldest is 103 years old.
SOLE THERAPY conveniently located near Sandringham can help you with any of the following:
Callus and corns
Ingrown nails
Warts
Fungal infections
Heel pain
Achilles Pain
Bunions
Ball of foot pain
Knee cap pain
Inside knee pain
Lower back pain
Post-surgery assistance
How can we help you may ask? Sandringham podiatry offers a range of services:
Half hour foot beautification to address any skin or nail issues using safe, modern and sterile equipment
One hour biomechanical assessments that will provide you with an accurate diagnosis and personalised treatment plan
Customised functional orthotics that are comfort driven, made in 30 minutes!
Dry needling, acupuncture and foot mobilisation therapy to assist with tight muscles, joint swelling, joint pain and poor joint alignment
Footwear assessment and advice to find the best shoes to fit in your lifestyle and foot type
SOLE THERAPY conveniently located near Sandringham is the premiere podiatry practice for anything related to feet, knees, hips and back. Our podiatry experts have a wealth of experience and knowledge and want to help you achieve your goals- no matter how big or small. We will explain your diagnosis and treatment plan in easy to understand language; and make sure that it fits in with your lifestyle.
Sandringham podiatry clinic can be found at 1/209 Ramsgate Road, Ramsgate Beach. We are easily reached by car and bus, with the bus stop just outside the clinic. There is plenty of free parking and we also have access to a chair lift for those patients who find it hard to walk up stairs. Please come and visit us to start your pain free journey today.
Follow us on social media