SOLE THERAPY. Just 10 minutes from Rockdale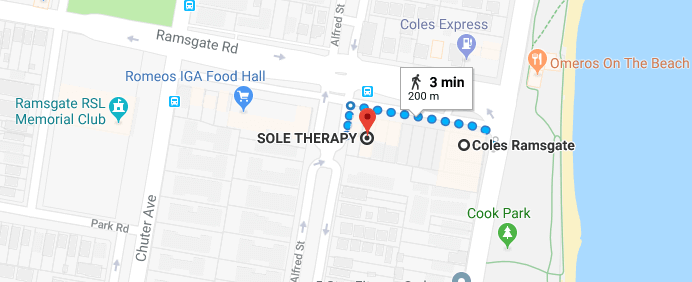 Contact us to start your pain free journey today at
Do you suffer from muscle pain such as tight calves or tight hamstrings? Dry needling along with stretches and exercises can help you maintain the length of the muscle and also built your strength. Our Rockdale Podiatrists have the knowledge, skills and experience to treat your concerns and answer all your questions. Simply visit our SOLE THERAPY team and let our Podiatrists help you achieve your goals.
SOLE THERAPY is conveniently located less than 10minutes from Rockdale at 1/209 Ramsgate Rd, Ramsgate Beach.
Our Rockdale Podiatrists will offer a thorough biomechanical assessment along with an easy to understand treatment plan customized to your own needs to help you gain quick relief and long-term resolution.
Our local Rockdale Podiatrists can help you with:
A 1-hour biomechanical assessment, which includes: a video treadmill gait analysis, posture analysis and accurate evaluation of your biomechanics.

Dry needling therapy to help you with muscle pain.

Bunion relief with mobilization of the joint.

Providing on the spot custom-made orthotics that help you stop and prevent pain in the feet, knees, hip and back.

General foot cares such as calluses and corns. We also treat ingrown toenails, warts and fungus.
Our local Rockdale podiatrist can accurately diagnose and treat foot pains including but not limited to:
Heel pain

Achilles issues

Ball of foot pain

Bunions

Flat feet

Acute injuries
SOLE THERAPY is a sterile clinic and we use autoclaved instruments.
Rockdale podiatry clinic SOLE THERAPY is just down the road from Rockdale in Ramsgate Beach. We are trained and qualified to help answer all your questions, provide effective solutions and most importantly help you be pain free.
SOLE THERAPY is easy to access by foot (if live locally) or bus and 2 hour free parking. We also have a chairlift for patients unable to climb stairs.
Follow us on social media