SOLE THERAPY. in the heart of Ramsgate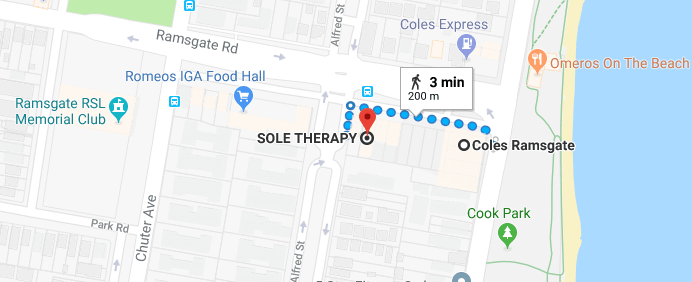 Contact us to start your pain free journey today at
Stop lower limb pain from being a regular occurrence in your life! Come to Ramsgate podiatrists Sole Therapy- the experts in feet, knees, hips and back. We have been a pillar of the community for over ten years, helping hundreds of patients live a pain-free life. Our local clinic is located in the hub of Ramsgate on the corner of Ramsgate Road and Alfred Street.
Ramsgate podiatry is a professional, modern clinic with the latest gait analysis and orthotic technology. We are famous for our friendly staff, great communication skills and a holistic view of health. Our goal is to help you achieve pain-free movement without the need for invasive intervention such as surgery.
Our customised orthotics have been 10 years in the making. Innovative research and creativity have led to the development of our orthotics that can be worn for as little as six weeks to achieve pain-free results.
Customised functional orthotics designed by our Ramsgate podiatrists can assist with:
Plantar fasciitis
Flat feet
Knee pain
Ball of foot pain
Bunions and clawed toes
Toe walking
Ankle injuries
Lower back pain
Sciatica
Ramsgate podiatry Sole Therapy also offers:
Comprehensive one-hour biomechanical assessments: Accurate diagnosis and a tailored treatment plan for your presenting complaints.
Dry needling and acupuncture: Assists with muscle pain and tightness; and joint swelling.
Foot mobilisation therapy: Stop joint pain and improves range of motion
Footwear advise and fitting: Your shoes are just as important as your orthotics; our podiatrists can assist with finding the right shoes for your foot type.
Cosmetic podiatry: cleaning up of nails, hard skin, ingrown nails; also treating warts and fungus.
Sterilised instruments and modern equipment.
Sole Therapy is the premiere Ramsgate podiatry clinic for everything related to back, knees and feet. Our team is enthusiastic, experienced and ready to help you live a pain-free life. We have a passion for working with our patients to achieve their goals by taking the time to listen and create a personalised treatment plan.
Ramsgate podiatrists are located at 1/209 Ramsgate Road, Ramsgate Beach less than 200m from Coles. Free 2 hour parking is available as well as a bus stops less than 50 metres from the clinic. A chair lift is available for use if stairs are a challenge.
Come and start your pain-free journey today by calling 02 9583 1138
Follow us on social media