SOLE THERAPY. Just 15 minutes from Penshurst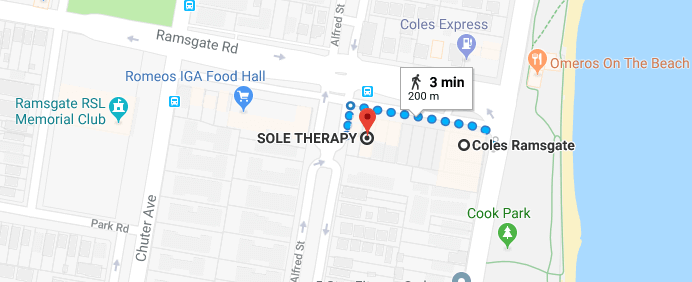 Contact us to start your pain free journey today at
If you experience lower limb pain when working, exercising or just doing day to day activities then why not come and see one of our Penshurst podiatrists at SOLE THERAPY! Our podiatrists service thousands of residents within the Penshurst area. You can find us nearby at 1/209 Ramsgate Road, Ramsgate Beach. Our modern, forward thinking practice is the place for all things related to the back, hips, knees and feet.
The health of your lower limb is important to us, at SOLE THERAPY we strive to provide our patients with the best care possible. We want to have you moving without pain and fit our treatment plan into your lifestyle.
If you need a podiatrist near Penshurst, we can treat leg and foot problems. At SOLE THERAPY we complete a thorough biomechanical assessment that allows our podiatry experts to create a unique care plan customized to your needs. We also offer sterilized and safe treatment of skin and nail issues.
Some things SOLE THERAPY's penshurst podiatrists will be able to help you with includes:
Ingrown toenails
Toenail infections
Warts
Odd-shaped toenails
Curly toes
Foot or lower leg pain
Heel pain
Achilles pain
Knee pain
Lower back pain
Arch pain
Bunions
Our Penshurst Podiatrists at SOLE THERAPY have the knowledge, skills and experience to treat your concerns and answer all your questions. SOLE THERAPY will look at you in a holistic way so that we can address the WHY to your problem so that you are not given just a Band-Aid fix. We will explain your diagnosis to you in easy to understand language so that you are well informed and able to make an educated choice on your treatment plan. Simply visit our SOLE THERAPY team and our Podiatrists will help you achieve your goals.
SOLE THERAPY is located close to Penshurst at 1/209 Ramsgate Road, Ramsgate Beach– just next to Ramsgate Seafood. There is plenty of free parking and the bus stop is less than 50 meters away. We also have a chair lift for patients unable to climb stairs.
Follow us on social media