SOLE THERAPY. Just 20 minutes from Oatley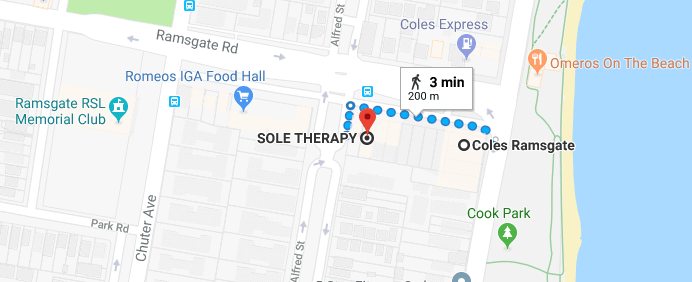 Contact us to start your pain free journey today at
Your feet are your base. You need them to stay healthy- they will hold you up for a life time. Oatley podiatry clinic SOLE THERAPY has been in our original location at 1/209 Ramsgate Road, Ramsgate Beach for over ten years. Our team has been helping keep the local area of Oatley stay pain free and active.
SOLE THERAPY found close to Oatley, is the one stop shop for everything related to the back, hips, knees and feet. Our team has the expertise, passion and empathy to help with a wide variety of issues:
Pain in the heels
Achilles problems
Outside/ inside ankle pain
Ball of foot pain
Bunion pain and development
Inside knee pain
Lower back pain
Acute injuries such as ankle sprains and tendon tears
Our expert team of Oatley podiatrists will do extensive testing and assessments to determine your diagnosis. They will then explain your diagnosis to you in simple language. Your treatment plan will be personalised to you! Your podiatrist will discuss with you options for treatment that works with your life style and activities.
Some of the treatment therapies Oatley podiatry offers include:
Functional customised orthotics
Dry needling
Foot mobilisation therapy
Massage
Footwear fitting and advice
At home programs
SOLE THERAPY can also assist with foot beautification, warts, ingrown toenails and diabetic assessments. Our clinic is especially designed this way to provide you with the best tailor-made service possible.
All services and treatments given out by SOLE THERAPY are regularly reviewed by our podiatrists. This ensures that you are always on track to achieving your goals and staying pain free!
Oatley podiatry is found close by at Ramsgate Beach– we are less than 200m from Coles. The surrounding area has plenty of free parking. The clinic can also be accessed easily by bus, with the bus stop 50m from the clinic door. We have also installed a chair lift for patients who need help getting up and down stairs.
Follow us on social media