SOLE THERAPY. Just 20 minutes from Mortdale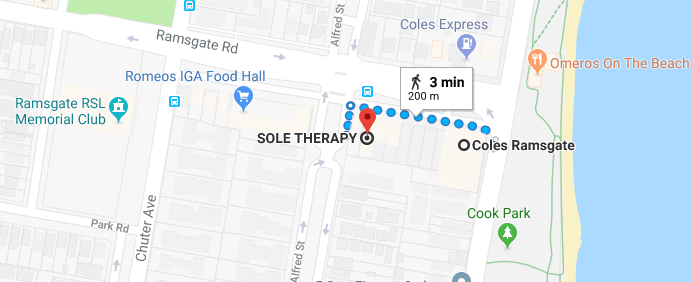 Contact us to start your pain free journey today at
Many people are embarrassed by their feet. This means that feet often get neglected and cause people more pain than necessary. At Mortdale podiatry SOLE THERAPY we love feet! We are passionate about getting feet and the people who own them moving pain free. You can find SOLE THERAPY close by to Mortdale at 1/209 Ramsgate Road, Ramsgate Beach.
So we have the passion, do we have the expertise? Of course! All of our podiatrists are University trained and then mentored in SOLE THERAPY's treatment plans and modalities. With all of our podiatrist having varied backgrounds and areas of interest, no problem or pain is too complicated.
Mortdale podiatry is an innovative and modern podiatry clinic for many reasons:
We have designed a detailed one hour biomechanical assessment that includes treadmill and video gait analysis to diagnose your pain and the reason behind it
Personalised treatment programs including orthoses, dry needling, mobilisation therapy, stretching and strengthening exercises
Our functional customised orthotics are made in only 30 minutes and are one of a kind just like you! They are comfort driven and can give pain free results in 6 weeks
Dedicated sessions of dry needling, acupuncture and foot mobilisation to help release tight muscles, reduce joint pain and assist in bringing down swelling
Expert advice and fitting on footwear, with lots of options to choose from including HOKA, FRANKIE 4, HUSH PUPPIES, AXIGN, ROLLIE and lots more!
Thorough treatment of skin and nail problems using modern, safe and sterilised equipment
SOLE THERAPY is the one and only place you need for anything related not only to your feet; but also knees, hips and back. We have the passion, knowledge and experience to help you.
You can find SOLE THERAPY only 20 minutes from Mortdale at Ramsgate Beach. A short trip to make to get yourself pain free. There is free parking available and a chair lift for whom stairs may be a challenge.
Call SOLE THERAPY today on 02 9583 1138 to get your feet moving better today.
Follow us on social media