SOLE THERAPY. Just 5 minutes from Monterey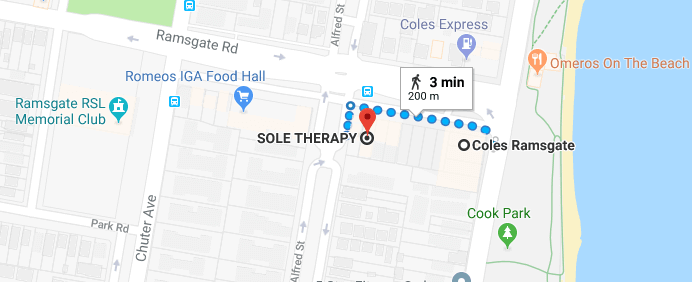 Contact us to start your pain free journey today at
It is important for parents to understand how to properly care for their child's feet as they can experience everything from delayed walking, toe walking, flat feet, bowed legs, pigeon toeing, clumsiness and many more. If you have any concerns about your child's feet you should visit our expert Monterey Podiatrists here at SOLE THERAPY. Our local clinic is located less than 10 minutes from Monterey at 1/209 Ramsgate Road, Ramsgate Beach, NSW.
Monterey Podiatrists can let you know what shoes will be best for your child. Most toddlers are flatfooted when they first start walking, because the bones, muscles and ligaments of their feet are underdeveloped. Have your child's shoes professionally fitted from our SOLE THERAPY TEAM includes measuring each
foot for length and width. Children's feet grow very quickly and their shoe size may need updating every few months. Shoes that are too tight can cause many problems to your child, such as ingrown toenails. Footwear also helps to protect their feet from injury and from the heat and the cold.
Monterey podiatristscan diagnose, treat and prevent a range of conditions, including but not limited to:
Ingrown toenails
Toenail infections
Warts, odd-shaped toenails
Curly toes
Foot or lower leg pain
Heel pain
Knee pain
Lower back pain
Arch pain
Bunions
How do we help our patients at Monterey Podiatry?
Biomechanical assessments where we look at your posture from top to tail. This assessment also includes a video treadmill gait analysis and pressure distribution mapping.
Orthotic therapy that is customised on the day so that you don't have to wait.
Foot mobilisation therapy.
Dry needling and acupuncture combination that helps reduce muscle pain and tightness.
Our Monterey Podiatrists have the knowledge, skills and experience to treat your concerns and answer all your questions. Simply visit our SOLE THERAPY TEAM and our Podiatrists will help you achieve your goals.
SOLE THERAPY is easy to access by foot (if live locally), or bus and 2 hour free parking. For our patients that are unable to climb the stairs we also have a chair lift. Visit our clinic today just down the road from Monterey in 1/209 Ramsgate Road, Ramsgate Beach, NSW.
Follow us on social media