SOLE THERAPY. Just 15 minutes from Miranda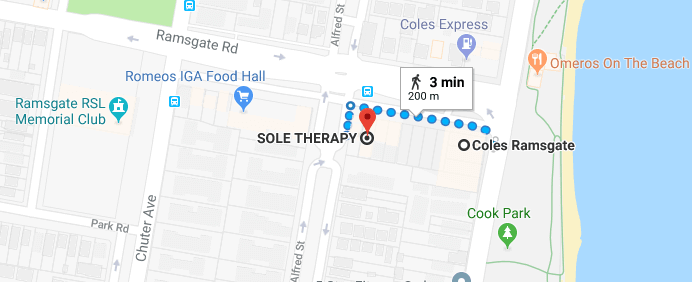 Contact us to start your pain free journey today at
Are you frustrated from lower limb pain holding you back? Does it stop you from exercising, working or just completing daily tasks? Well do not suffer any longer! Come and visit Miranda Podiatry Clinic SOLE THERAPY located nearby at 1/209 Ramsgate Road, Ramsgate Beach. SOLE THERAPY is an innovative and passionate team who want to help you achieve your goals and move pain free!
Miranda Podiatry is an award winning clinic that has been expertly working in our original location for over 10 years. We look at each of our patients as a whole person and not just a set of feet. This holistic approach, along with great listening, easy to understand language and empathy means that all of our patients leave happy.
So what can we help you with? Our Miranda podiatrists are equipped and able to help you with:
Heel pain
Flat feet
Outside/ inside ankle pain
Knee pain
Bunions
Ball of foot pain
Hypermobility
Lower back pain
Leg length differences
Scoliosis
Hard skin on feet
Warts
Fungal infections…. And much more!
SOLE THERAPY found close to Miranda in Ramsgate Beach offers a range of services and products to assist with your presenting complaint and get you on the road to recovery!
Comprehensive one hour biomechanical assessment including posture appraisal, flexibility testing and treadmill gait analysis to get to the root of your movement problems
Functional customised orthotics made within 30 minutes, driven by comfort and support to get you moving better
Dry needling and mobilisation therapy to fast track muscle pain, tightness and joint swelling
Foot beautification with sterilised instruments that will address problem areas such as callus, corns and ingrown or thickened toenails
Footwear advice and options to get you into the best pair of shoes for your feet
Miranda Podiatry clinic SOLE THERAPY is only 15 minutes by car from Westfield Miranda. You can also reach us from Miranda by bus. You will find SOLE THERAPY less than 200m from Coles in Ramsgate Beach. Our clinic is lucky enough to be surrounded by plenty of free parking and is right in front of the bus stop. We also have a chair lift installed for people who find it hard to use stairs.
Please call our award-winning clinic today on 02 9583 1138!
Follow us on social media