SOLE THERAPY. Just 10 minutes from Kogarah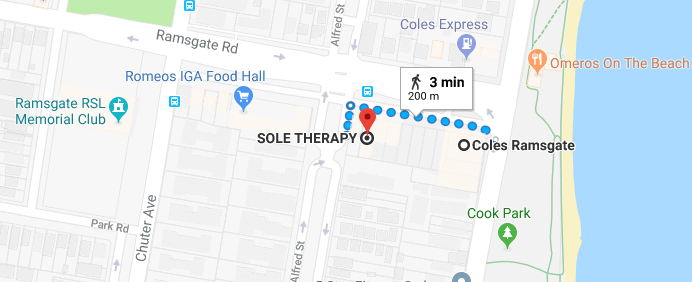 Contact us to start your pain free journey today at
Do suffer from back, knee or foot pain? Are you wanting to prevent injuries and pain? Or are you interested in how your feet can impact the rest of your body? Then Kogarah podiatry SOLE THERAPY is the place for you. We are not only the experts for everything related to the lower limb but are also conveniently located near Kogarah at 1/209 Ramsgate Road, Ramsgate Beach.
SOLE THERAPY has been handily near Kogarah for over 10 years. Innovation and passion makes us an award winning podiatry team. We pride ourselves on a holistic and individualised approach to each patient that walks through our doors. Excellent listening, accurate diagnosis and modern analysis equipment means that we will have you feeling great in no time!
Kogarah podiatry clinic SOLE THERAPY is renowned for our one hour biomechanical assessments which include:
Thorough taking of injury, medical and activity history
Hands on assessment of your presenting complaint
Testing of muscles strength and joint flexibility in the lower limb
Analysis of your walking patterns with our state of the art video treadmill system
Easy to understand discussion of assessment results
From these examinations, our Kogarah podiatrists at SOLE THERAPY will present you with personalised treatment options to help you on your way to recovery. Some options may include:
Customised functional orthotic therapy that correct foot alignment issues and stop pain at the back, knees and feet.
Dry needling and acupuncture combination that reduce muscle pain and tightness; and joint swelling.
Foot mobilisation therapy to improve joint range of motion and joint pain.
Trigger point therapy education with the use of spiky ball, foam rolling and anti-inflammatory cream.
Footwear advice and fitting to find the best shoes for your foot type and activities. We also have a range of options for you to choose from: HOKA, ROLLIE, FRANKIE 4, HUSH PUPPIES, SLAPPAS, JOYA, AXIGN & AUSSIANAS.
SOLE THERAPY located near Kogarah is constantly evolving- introducing new services, products and expanding our clientele.
Come visit us at SOLE THERAPY at 1/209 Ramsgate Road, Ramsgate Beach, NSW. Free 2 hour parking & chairlift if needed. We look forward to meeting you and helping you!
Follow us on social media