SOLE THERAPY. Just 20 minutes from Kingsgrove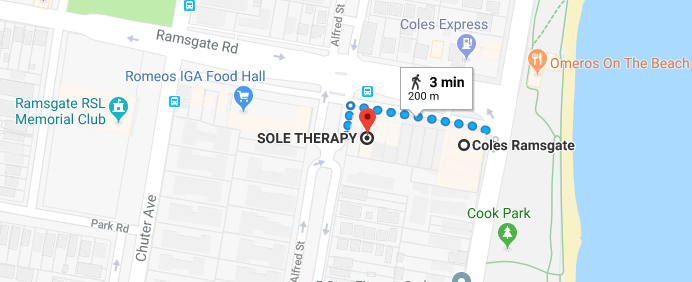 Contact us to start your pain free journey today at
If you are experiencing aches and pains in your feet, legs, lower back or have footwear issues, then you will definitely benefit from seeing one of our local Kingsgrove podiatrists at SOLE THERAPY. We are conveniently located down the road from Kingsgrove at 1/209 Ramsgate Road, Ramsgate Beach, NSW, 2217.
Our Podiatry Kingsgrove foot doctors have the knowledge, skills and experience to treat your concerns and answer your questions. If your body is holding you back from doing the things you love, then let us take away your stress and worries with some SOLE THERAPY help!
Our feet will circle the globe 3-4 times in an average lifetime and our Podiatry Kingsgrove foot doctors at SOLE THERAPY will help you keep going the distance pain-free. We do a thorough assessment, an easy to understand treatment plan and offer the most effective solutions that are catered to you.
Some of the services our Podiatry Kingsgrove experts offer include:
A comprehensive 1-hour biomechanical assessment-including video treadmill gait analysis, posture analysis and accurate evaluation of your biomechanics.

Providing on-the-spot custom-made orthotics that are extremely comfortable, durable and shock absorbing.

Excellent assessments of all ages: our youngest patient is 8 months old and our oldest patient is 103 years of age.

Thorough foot and nail care (corns, callus, warts, ingrown toenails, fungus, etc.)

Bunion relief with the mobilisation of the joints (avoid surgery!).

Dry Needling Therapy to help with migraines, tight muscles and foot/ankle/knee pain.

Effective treatment solutions including, but not at all limited too: plantar fasciitis, heel pain, arch pain, arthritis, knee pain, back pain, bunions, shin splints

Expertise advice on the best shoe for your specific foot type. In the clinic, we also sell well-known brands like HOKA, FRANKIE4, HUSHPUPPIES, SLAPPAS, AXIGN, JOYA, etc. to make it easy for you.

Sterile clinic and autoclaved instruments as per Australian Government Legislation-so you can relax knowing you are in safe hands.
Look no further than SOLE THERAPY! We are trained and qualified to help answer all your questions, provide effective solutions and results driven treatments. We genuinely want to help you be pain-free, so contact us today. Come to visit our multi-award winning podiatrists.
SOLE THERAPY is easy to access by foot (if you live locally) or bus and 2 hours of FREE PARKING. We also have a chair lift for those who may need it.
We are only 200m from COLES-Ramsgate Beach & next to Ramsgate Seafood
Follow us on social media