SOLE THERAPY. Just 15 minutes from Hurstville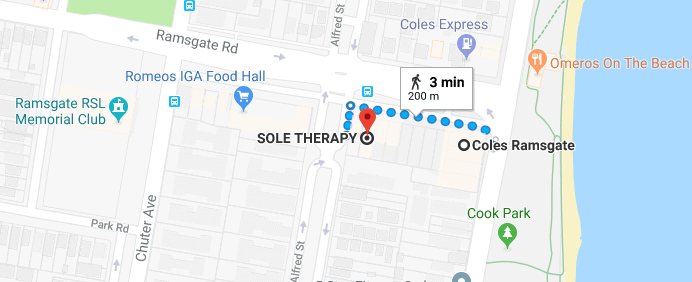 Contact us to start your pain free journey today at
Your feet are a reflection of your overall health. Abnormalities, pains or lesions on the feet can be a sign of more serious health issue elsewhere. That's why it is important to have your feet checked regularly by a podiatrist. Hurstville podiatry SOLE THERAPY is the place to visit if you are concerned about your feet. We can be found close by at 1/209 Ramsgate Road, Ramsgate Beach.
More than 60% of Australians suffer from foot pain in their life. However only 2 out of 5 of those people have sought treatment! At Hurstville podiatry we encourage you to make your feet a priority as they have to last you a lifetime. Luckily we are the specialists in everything related to your feet- offering a range of services and treatment plans to suit everyone.
Hurstville podiatry clinic SOLE THERAPY can provide you with:
Comprehensive biomechanical assessment to help you with any concerns relating to your feet, knees, hips or back. Assessment includes diagnosis of your presenting complaint, check of all muscles and joints in the lower limb, gait analysis, and footwear check.
Personalised treatment plan based on assessment results that fits in with your life style and goals
Customised functional orthotics that are comfort driven and made within 30 minutes
Dry needling and foot mobilisation therapy to assist with your muscle and joint pain fast
Prescription for at home self-therapies such as trigger point therapy, stretching and anti- inflammatory creams
General skin and nail care that can address areas of concern such as callus, corns, ingrown toenails, warts and fungus.
Diabetic assessments to determine any nerve or circulation changes at your feet
Permanent solutions for ingrown toenails
Footwear advice and consultations to help find the best shoe for your foot type and activity
Our Hurstville podiatrists are amongst the most professional and passionate. Our enthusiasm for helping others knows no bounds. We see patients of all ages and from all walks of life. We want you to be pain free and living your best life.
SOLE THERAPY is located close to Hurstville at Ramsgate Beach in-between Coles and Ramsgate Seafood. We have been at original location over ten years!! It is easy to get to by car or bus. There is plenty of free parking available. The clinic also has a chair lift for people who find stairs a challenge.
If you want to starting living a pain free life please call SOLE THERAPY today (02) 9583 1138.
Follow us on social media