SOLE THERAPY. Just 5 minutes from Dolls Point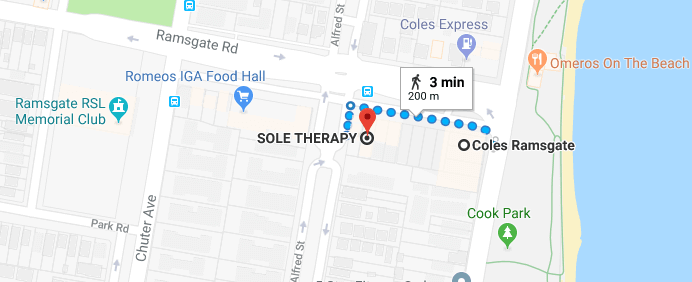 Contact us to start your pain free journey today at
Bunions are a commonly spoken about topic, which involves the deviation of either one or both 1st toes as they 'turn inwards' and/or often have a 'bum' at the 1st toe joint. SOLE THERAPY located less than 10 minutes from Dolls Point have many treatment modalities to prevent the progression of your bunions along with treating symptomatic pain.
Our team at SOLE THERAPY all too often see patients embarrassed about their foot pathologies putting things off for months or even years! All of which come in asking themselves why they didn't come sooner and putting up with the pain which impacted their day to day activities.
Leaving each consult, our patients within the Dolls Point region leave with a personalised treatment regime, the knowledge and understanding of WHY their pathology is occurring and how to treat it.
Common risk factors for bunions include the following:
Flat feet.

Family history

Being female

Menopause

Narrow shoes

Structural imperfections (e.g. short 1st metatarsal)

Age

Obesity

Hypermobility
Services provide to Dolls Point to treat bunions:
1 hour initial assessment from head to toe

Soft tissue and mobilisation therapy

Customised foot orthotics made within 30 minutes with a variety of designs best suited for your foot and shoe selection fitting

Dry needling

Exercise therapy

Footwear advice
So come down and visit SOLE THERAPY, conveniently located less than 10 minutes from Dolls Point as we love feet and are passionate about what we do. Our professional team are more than capable at treating your feet regardless of how small or large the issue may be, so you are able to enjoy your afternoon walks along the bay.
SOLE THERAPY is located at 1/209 Ramsgate Road, Ramsgate Beach (100m from the Coles shopping centre). Local bus stop, 2 hour free parking and a chair lift all present for easy accessibility and convenience.
Follow us on social media