SOLE THERAPY. Just 20 minutes from Cronulla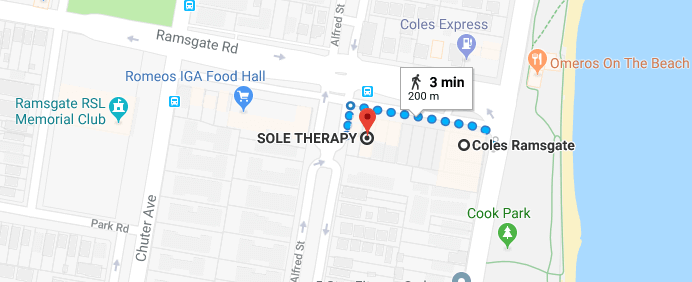 Contact us to start your pain free journey today at
Do you suffer from painful corns? Corns are hard, thickened arrears of skin that form as a result of rubbing or pressure on the skin. You may have a corn or a callus if you notice a thick, rough area of skin, a hardened bump, tenderness and pain under your skin or dry skin.
It is highly recommended you seek treatment from our experienced Cronulla Podiatrists here at SOLE THERAPY for corn and callus removal. This is really important especially if you are diabetic. We are located not far from Cronulla at 1/209 Ramsgate Road, Ramsgate Beach, NSW.
Our friendly and caring Cronulla Podiatrists are experts in everything related to back, hip, knee pain and feet. We have a passion for getting people out of pain to live their best lives!
Some of the services our Cronulla Podiatrists can offer you are:
General skin and nail care that can address areas of concern, such as calluses, corns, dry skin, ingrown toenails, warts and fungus.

Thorough 1-hour biomechanical assessment and gait analysis.

Diabetic assessment to determine any nerve or circulation changes on your feet.

Customized functional orthotics made in 30minutes in our clinic.

Dry needling and mobilization to help with tight muscles and joint pain.
Common conditions that we treat here at SOLE THERAPY are:
Heel pain

Knee pain

Ankle pain

Arch pain

Bunions

Back pain

Flat feet

Plantar fasciitis
Cronulla Podiatry clinic SOLE THERAPY is the place for all foot related problems. Our team is enthusiastic, experienced and ready to help you achieve your goals to live a pain free life. Our equipment is sterilized according to Australian Legislation, so there is no need to be afraid! You are in goods hands!
SOLE THERAPY is easy to reach from Cronulla by bus or car. The bus stop is only 50m from our clinic and there is also a 2-hour free parking available. We are located at 1/209 Ramsgate Road, Ramsgate Beach, NSW. For those that are unable to navigate stairs a chair lift is also available.
Feel free to call our award winning clinic to book an appointment on 02 9583 1138.
Follow us on social media