SOLE THERAPY. Just 15 minutes from Connells Point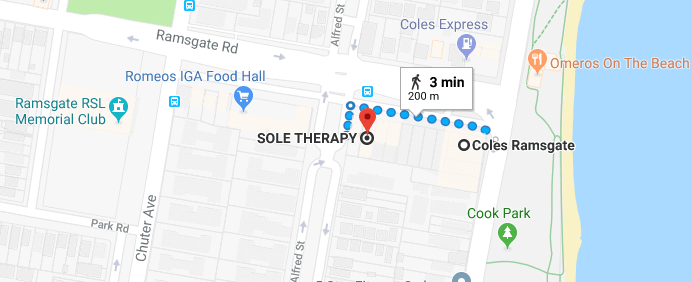 Contact us to start your pain free journey today at
One of the most common conditions we see here at SOLE THERAPY is heel pain. If you have heel pain that persists, you should visit our local Connells Point podiatrists here at SOLE THERAPY. We are located down the road from Connells Point at 1/209 Ramsgate Road, Ramsgate Beach, NSW, 2217.
Our Connells Point podiatrists are experts in everything associated with foot, leg and lower back pain. We use the latest advanced treatments to help our patients gain quick relief and long-term resolution.
The health of your feet is important to us, at SOLE THERAPY we strive to provide our patients with the best foot care available. We do a thorough biomechanical assessment that allows our SOLE THERAPY podiatry experts to create a unique care plan customized to your needs.
Some of the services our Connells Point podiatrists offer are:
Comprehensive 1-hour biomechanical assessments and gait analysis that help our podiatrists to recommend the most effective treatment program for you.
Custom made orthotics to fit the unique characteristics of your own feet. 
Foot and nail care such as corns, warts, dry skin, fungus, calluses, ingrown toenails etc.
Dry needling sessions that can be beneficial for tight muscles and foot, ankle and knee pain.
Bunion relief through mobilization of the joints. This therapy helps our patients avoid surgery and alleviate pain without drugs.
Treatment solutions for pain associated with plantar fascia, heel, arch, knee, back, bunions etc.
Our Connells Point podiatrists have experienced shoe advisors that can assist you in choosing the right shoes for your foot type. You can choose among many brands we stock here at SOLE THERAPY such us HOKA, FRANKIE4, HUSHPUPPIES, SLAPPAS, AXIGN, JOYA, ROLLIES. Shoes that have been approved and designed by foot experts.
Sterile clinic and autoclaved instruments as per Australian Government Legislation.
SOLE THERAPY is the place for all foot related problems. We will answer all your questions and provide effective solutions and treatments. Foot issues can have enormous impacts on mobility, quality of life and health. Come to visit our award winning clinic by calling (02) 9583 1138.
SOLE THERAPY is easily accessible by bus or foot (if you live locally). A chair lift is also available for patients unable to navigate stairs. Free 2 hour parking as well.
Follow us on social media