SOLE THERAPY. Just 10 minutes from Carss Park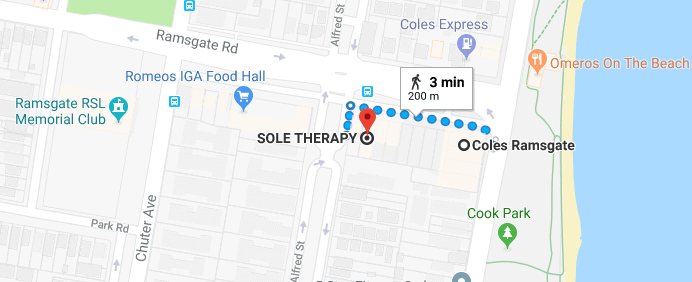 Contact us to start your pain free journey today at
Does your child often complain about leg or foot pain? Do they suffer from ingrown toenails or have signs of flat feet? Do you want your child to continue to be active in a safe manner? From young age children have their eyes, teeth and hearing checked. However foot development, posture and walking is often forgotten!! Here at Carss Park podiatry SOLE THERAPY, we are experts in children's feet and growing pains. We are located five minutes from Carss Park at 1/209 Ramsgate Road, Ramsgate Beach, NSW.
As children's posture, musculature and bone growth undergo many different changes until the age of 18, it is important to ensure their feet and movements are developing correctly prior to this. The earlier you have your child's feet and posture checked, the sooner they'll be set up with a stable base for life!
Carss Park podiatry clinic understands the importance of your child's growth and development and what prevention measures or modifications that could assist. Children's feet change in length and shape over time, therefore it is important to understand the abnormalities that can associate with your child's feet and movement.
Signs and symptoms that SOLE THERAPY can help your child with includes:
Flat feet
Toe walking
Pigeon- toed (in toeing)
Duck-toeing (out toeing)
Heel pain
Knee pain
Tripping
Plantar warts
Ingrown toenails
How do we help our patients in Carss Park?
Biomechanical assessments – including pressure distribution mapping, computerised gait analysis and posture
Footwear advice- we will advise you on the best shoes for your child's growing feet and activities
Stretching and strengthening exercises
Orthotic therapy that is custom made on the day, so you don't have to wait
General treatments to attend to ingrown nails and plantar warts
We have been located in our original location at Ramsgate Beach near Carss Park for over ten years. With our largest group of patients being children, we have a wealth of knowledge and a passion for working with kids. We have been honoured to see many of our young clients grow into amazing active adults! Carss Park podiatry offers after school appointments four days a week and is easily accessible by car, foot (if you live locally) or bus.
Make an appointment today by calling 02 9583 1138 to have your child assessed today.
Follow us on social media