SOLE THERAPY. Just 10 minutes from Carlton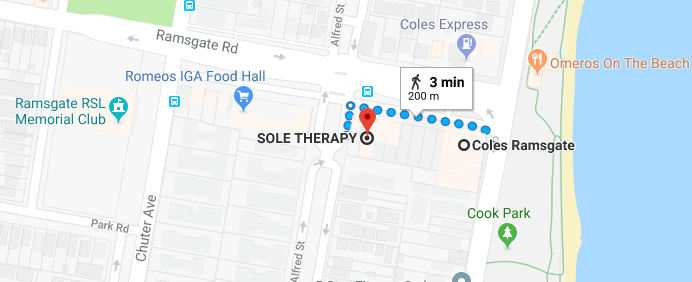 Contact us to start your pain free journey today at
We often take our feet for granted, but they are one of the most complex parts of the body. They contain a quarter of all our bones, 66 joints, over 200 muscles, tendons and ligaments. If the feet aren't working well it may make your daily activities uncomfortable, painful and challenging.
At Carlton podiatry clinic SOLE THERAPY we are not only experts in feet, but also want to help you live a pain-free life. You can find our Carlton podiatrists in Ramsgate Beach at 1/209 Ramsgate Road- an easy 10 minute drive away.
Our approachable and caring team of podiatrists close to Carlton will take an individualised and holistic attitude to your body. Carlton podiatry understands how issues at the feet can impact further up to back, hips and knees. We will assess your presenting worries, discuss these with you in an easy to understand language and present a range of treatment options.
If you suffer from any of the following come and visit Carlton podiatry clinic SOLE THERAPY:
Arch pain
Ankle pain
Heel pain
Flat feet
High arches
Inner knee pain
Arthritis
Bunions
Sciatica
Lower back pain
Our comprehensive one-hour biomechanical assessment looks at your posture from top to tail. From this, we are able to find the root cause of your presenting complaint and prevent further pain from occurring.
Carlton podiatrists are also experts in the medical beautification of the feet! Our thirty-minute general treatments assist with any areas of concern in relation to skin and nails. This may include:
Callus or corns
General nail cutting for hard to reach nails
Thickened nails
Skin or nail fungal infections
Warts
Ingrown toenails
Our equipment is sterilised according to Australian legislation- so you can feel safe in the knowledge that you are good hands. We also offer nail painting and LCN- a pain-free acrylic for damaged or short nails.
SOLE THERAPY is easy to reach from Carlton by car or bus. The bus stop is conveniently located directly outside the clinic. Ample two-hour free parking is also available.
Follow us on social media