SOLE THERAPY. Just 20 minutes from Caringbah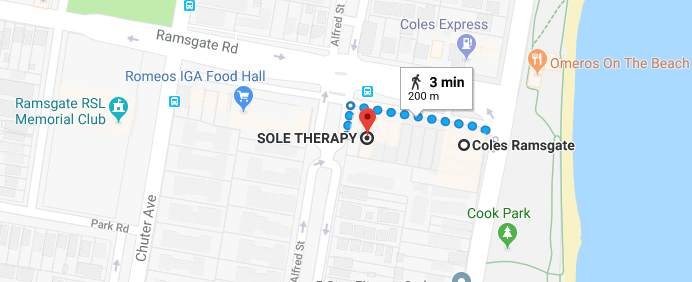 Contact us to start your pain free journey today at
Your feet are like a building's foundation- they need to be stable and strong. However, the foundation of our body also needs to move! In order to do this safely, the foot has been made with 26 bones, 3 joints, 107 ligaments, 19 muscles and tendons. As we walk, each foot hits the ground with a force up to 3 times our weight; up to 7 times when running. That's a lot of force! No wonder our feet can become painful if they aren't moving right or supported.
At Caringbah Podiatry clinic SOLE THERAPY we are the experts in everything related to feet, knees, hips and lower back. We have the skill and knowledge to diagnose, treat and prevent pain and injuries. Our practice can be found close to Caringbah at 1/209 Ramsgate Road, Ramsgate Beach.
Our Caringbah Podiatrists can help you with, but not limited to:
Claw toes
Foot or lower leg pain
Heel pain
Knee pain
Lower back pain
Arch pain
Bunions
Ball of foot pain
Ingrown toenails
Toenail infections
Warts, odd-shaped toenails
We have developed a comprehensive one hour biomechanical assessment to not
only diagnose your presenting complaint, but also the reason behind it. Together with you, a treatment plan that fits in with your lifestyle and activities can be developed. At SOLE THERAPY we advocate for alternative and holistic therapies to help you keep doing the things you love.
Our Caringbah Podiatrists can also help you by attending to any skin or nail issue in a general treatment. Our podiatrists use modern, safe and sterilised equipment- so you know you are safe. We also offer healthy alternatives to acrylics (LCN) for damaged nails and products for at home use to keep your feet looking good in between visits!
Caringbah Podiatry is located only 15 minutes away by car in Ramsgate Beach. Our clinic is surrounded by lots free parking and we are even less than 100 m from the bus stop. SOLE THERAPY has also made available a chair lift for those who find it hard to navigate stairs.
We see patients of all ages and from all walks of life. We want you to be pain free and living your best life
Follow us on social media