SOLE THERAPY. Just 10 minutes from Brighton Le Sands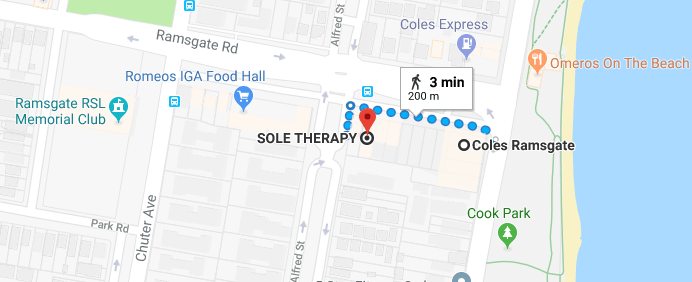 Contact us to start your pain free journey today at
If you experience lower limb pain when going about your day-to-day activities- why not consider seeing one of our Brighton Le Sands podiatrists at SOLE THERAPY!! We are conveniently located less than 10 minutes from Brighton Le Sands at 1/209 Ramsgate Rd, Ramsgate Beach.
Our friendly and caring Brighton Le Sands podiatry team are experts in everything related to backs, hips, knees and feet. We have the skill and knowledge to diagnose, treat and prevent pain and injuries. At Sole Therapy, we advocate for alternative and holistic therapies to help you keep doing the things you love.
We see patients from all walks of life. From toddlers taking their first steps to young active children and teenagers, busy parents, weekend warriors and travelling retirees. Our youngest patient is 8 months old and our oldest patient is 103 years of age.
Common conditions treated by our Brighton Le Sands podiatrists:
Heel pain
Plantar Fasciitis
Flat feet
Arthritis
Knee pain
Ball of foot pain
Bunions
Back pain
Services offered by Brighton Le Sands podiatry include:
Comprehensive one-hour biomechanical assessments to analyse gait, posture and lower limb mechanics
Customised functional orthotics within 30 minutes that help stop and prevent pain in the feet, knees, hip and back
Treatment relating to skin and nails- Corns, callus, fungus, ingrown nails etc.
Alternative therapies like dry needling and mobilisation to help with tight muscles and joint pain
Expert footwear advice and fitting for your foot type
Modern and professionally sterilised equipment- you are in safe hands!
Come and visit Brighton Le Sands podiatrists, handily located down the road at Ramsgate Beach. We are a passionate and experienced clinic that wants to help you live your best life. We will provide personalised treatment and help you achieve your goals. You will find us located next to Ramsgate Seafood on Ramsgate Road.
Sole Therapy is easily accessible by bus or foot (if you live locally) and free 2-hour parking is available. A chair lift is also available for patients unable to navigate stairs.
Follow us on social media