SOLE THERAPY. Just 15 minutes from Bexley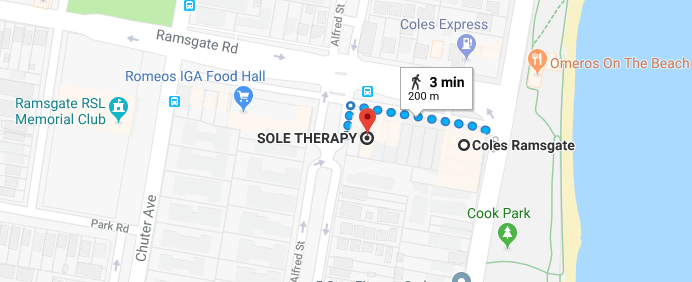 Contact us to start your pain free journey today at
Do you believe you have a nail fungal infection? To prevent further damage or even loss of the nail we recommend you seek advise from our Bexley Podiatrists here at SOLE THERAPY, as we can professionally diagnose and treat the condition. SOLE THERAPY is conveniently located less than 15minutes from Bexley at 1/209 Ramsgate Road, Ramsgate Beach, NSW.
At SOLE THERAPY, we are passionate, caring and knowledgeable podiatrists with a main goal to help you live a pain free life.
Our Bexley podiatrists are experts in everything associated with feet, leg and lower back pain. Some of the services our Bexley Podiatrists offer are:
Comprehensive 1-hour biomechanical assessments and gait analysis that help our podiatrists to create a treatment program based to your unique needs.
Customized functional orthotics made within 30 minutes using state of the art technology from SIDAS and our own orthotic lab onsite.
Dry needling and foot mobilization therapy to assist with muscle and joint pain.
Diabetic assessments to determine any nerve or circulation changes at the feet.
General skin and nail care that can address areas of concern such as callus, dry skin, corns, ingrown toenails, warts and fungus.
Footwear advice and consultation to help you find the best shoe for your foot type.
Bunion relief with mobilization of the joints.
Our Bexley Podiatrists can accurately diagnose and treat foot pains including but not limited too:
Heel pain
Achilles pain
Flat feet
Bunions
Acute injuries
Knee pain
Ankle pain
At SOLE THERAPY we use equipment sterilized according to the Australian legislation. All services and treatments given out by our Bexley Podiatrists are regularly reviewed as this ensures that you are always on track and pain FREE!
Bexley Podiatry is only 200m from COLES in Ramsgate Beach. There is plenty of free 2hour parking. Our clinic can also be accessed by bus: bus stop is only 50m from us, and we have also installed a chair lift for patients who need help getting up and down the stairs.
Follow us on social media