SOLE THERAPY. Just 20 minutes from Beverly Hills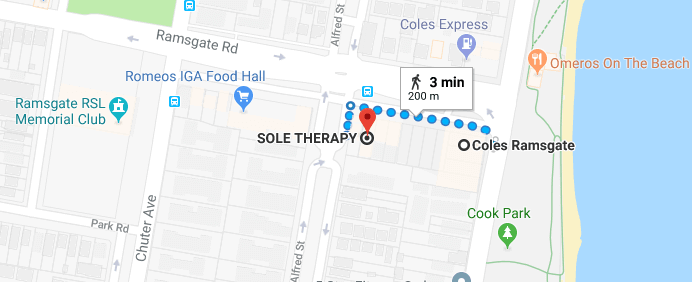 Contact us to start your pain free journey today at
Do you want to know how you can make your feet stronger? Strengthening exercises are important as they can improve your flexibility and allow your muscles to provide better support and protection for your feet.
If you want to keep your feet healthy visit our Beverly Hills Podiatry SOLE THERAPY, conveniently located close to Beverly Hills at 1/209 Ramsgate Road, Ramsgate Beach, NSW.
Our Beverly Hills Podiatrists are experts to everything related with feet, leg and lower back pain. At SOLE THERAPY we strive to provide our patients with the best care possible. If your body is holding you back come visit our multiple award-winning clinic and we will help you!
Our Beverly Hills Podiatrists can help you with conditions such us:
Heel pain
Ankle pain
Knee pain
Arch pain
Flat feet
Bunions
Plantar fasciitis
Lower back pain
Curly toes
Warts
Toenail infection
Ingrown toenails
Achilles pain
Ball of foot pain
At SOLE THERAPY we offer a 1-hour thorough biomechanical assessment from which our Beverly Hills Podiatrists will be able to determine your diagnosis. We will create a unique care plan treatment based on your own needs and we will explain your diagnosis to you in an easy to understand language so that you are well informed and able to make an educated choice on your treatment plan.
By using innovative technologies, we make customized orthotics, ready in just 30 minutes as we have our very own facilities, which will help you to reduce stress on your body by bringing the lower back into proper alignment.
At Beverly Hills Podiatry we use sterilized instruments and modern equipment. All treatments and services are regularly reviewed by our SOLE THERAPY team as this ensures that you are always on track and PAIN FREE!
Beverly Hills Podiatry is conveniently located less than 20 minutes from Beverly Hills at 1/209 Ramsgate Road, Ramsgate beach, NSW. There is 2-hour FREE parking, and our clinic can also be accessed by bus, as the bus stop is only 50m from our door. For our patients that are unable to navigate stairs, we have installed a chair lift to ensure an easy access without you having to worry!
Follow us on social media