SOLE THERAPY. Just 5 minutes from Beverley Park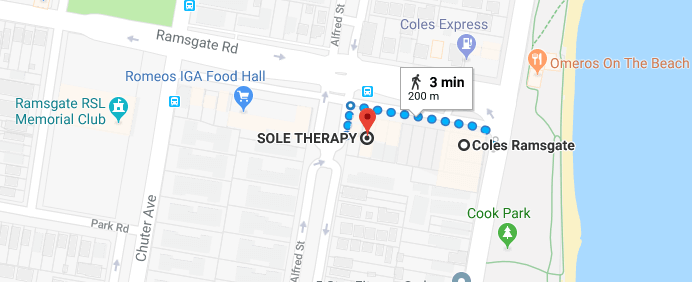 Contact us to start your pain free journey today at
If you think you have an ingrown toenail, it is best to come and visit our Beverley Park Podiatrists here at SOLE THERAPY. Our local clinic is located only a few minutes from Beverley Park on 1/209 Ramsgate Road, Ramsgate Beach, NSW in our original location for over 10 years.
If your ingrown toenail has come back a few times our Beverley Park Podiatrist are qualified to perform a minor surgical procedure under local anesthetic, this is known as Partial Nail Avulsion (PNA).
We know that foot issues and especially pain can have an enormous impact on your quality of life and overall health. If foot pain is holding you back from enjoying your everyday activities, then SOLE THERAPY can help you get back on track.
Beverley Park Podiatry SOLE THERAPY is an award winning team. Our podiatrists are specialist not only in feet but knees, hips and the lower back. We are a place for all foot related problems. We will answer all your questions and provide effective solutions and treatments.
SOLE THERAPY is known for:
A one hour comprehensive biomechanical assessment that can address things like
Heel pain

Achilles pain

Knee pain

Bunions

Arch pain

Flat feet

Lower back pain

Heavy callus patterns
Customized functional orthotics made within 30 minutes. Pain free results can be achieved within 6 weeks.

Cosmetic podiatry: cleaning up of nails, hard skin, treating warts and fungus.

We use sterilized instruments and modern equipment.

Foot mobilization therapy beneficial for tight muscles, foot, ankle and knee pain.
Our Beverley Park Podiatrists are experienced shoe advisors that can assist you in choosing the right footwear according to your needs. You can choose one of the many brands we carry here at SOLE THERAPY such as HOKA, FRANKIE4, AXIGN, SLAPPAS, HUSHPUPPIES, JOYA, and ROLLIES.
Beverley Park Podiatrist are located at 1/209 Ramsgate road, Ramsgate Beach less that 200m from COLES. Free 2 hour parking is also available as well as a buss stop less than 50m from our clinic. A chair lift is also available for patients unable to navigate stairs.
Follow us on social media