SOLE THERAPY. Just 10 minutes from Allawah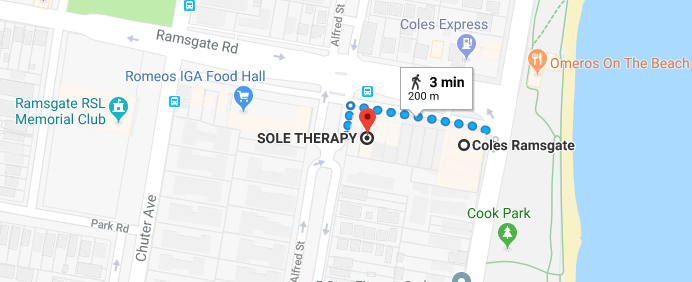 Contact us to start your pain free journey today at
Did you know that poor foot alignment can lead to problems in the ankles, knees and hips? If you want to live pain free, then Allawah Podiatrists SOLE THERAPY is the place for you. You can find our Allawah Podiatry at 1/209 Ramsgate Road, Ramsgate Beach-an easy 10-minute drive away.
We are an award winning podiatry team able to treat more than just feet, knee, hip and lower back pain. At SOLE THERAPY we use easy to understand language, so that our patients leave with an awareness of their presenting complaint and the reasons behind it.
The health of your feet is important to us, at SOLE THERAPY we strive to provide you with the best foot care available. We do a thorough biomechanical assessment that allows our SOLE THERAPY practitioners to create a unique care plan customized to your needs.
If you suffer from any of the following come visit our Allawah Podiatry clinic SOLE THERAPY:
Lower back pain

Flat feet

High arches

Inner knee pain

Bunions

Arch pain

Ankle pain

Ingrown toe nails

Calluses or corns

Skin or nail fungal infection

Warts

General nail treatments for hard to reach nails, corns, callus, fungus and ingrown toenails.
Allawah podiatrists use innovative technologies, especially when it comes to orthotic therapy. A custom orthotic is a devise designed to align the foot and ankle into the most anatomically efficient position. SOLE THERAPY custom orthotics reduce stress and strain on your body by bringing the lower limp back into proper alignment. Our Allawah Podiatrists will fit your orthotics into your shoes as comfortably as an insole.
Our equipment is sterilized according to Australian legislation-so you can relax knowing you are in good hands. We also offer nail painting, and LCN – a chemically free acrylic for damaged or short nails.
SOLE THERAPY is easy to reach from Allawah by bus or car. Ample two hour parking is also available. Our clinic also has a chair lift for people who find stairs a challenge.
Follow us on social media